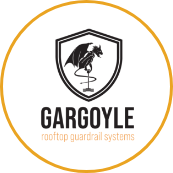 Factory Supply designs, engineers and fabricates custom rooftop guardrail maintenance platforms to protect your employees while working at heights. Equipment maintenance may require elevated access on a rooftop that can put employees at risk. The use of railed platforms surrounding the equipment will eliminate the risks while improving work performance and productivity.
We custom design maintenance platforms to suit customer requirements. These platforms are always designed in order to meet or exceed the applicable required safety regulations, including OSHA. Personnel safety, accessibility, modular construction, maintenance, and ease of setup for reconfiguration are often key factors included within the design of these platforms.
These rooftop work platforms are also designed to blend in with the existing roof aesthetics and can be customized to multiple heights and configurations. When coupled with our Gargoyle Walkway Series and classic Gargoyle Guardrail System you will have a complete rooftop safety system that ensures the safety of both your roof and workers.
On December 31, 2019, Employee #1 was installing a metal grating on an elevated platform. He fell, a fall height of 18.25 feet, and struck his head on concrete. The employee was killed.
Components
Specifications/Features
Regulations
Resources
Components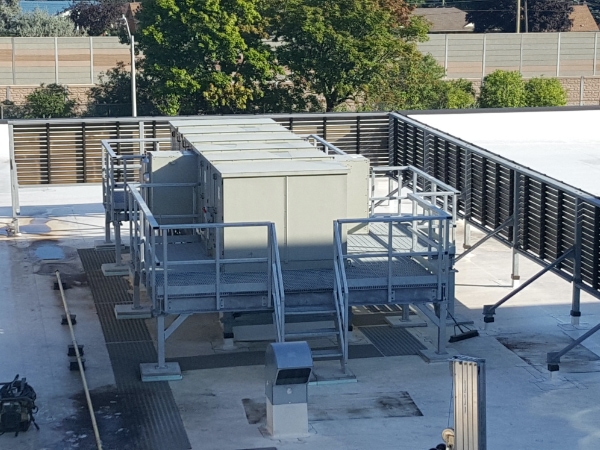 All products are customizable depending on rooftop layout
and applications and include:
Grated slip resistant walkways
Complete installation manual and layout drawings
Counter weighted baseplates
Rubber mats to protect rooftop membrane
Vertical posts
Horizontal rails
Set Screws
Specifications/Features
Regulations
Resources
Gargoyle Line Of Products
An investment in fall protection
ON THE LEADING EDGE OF SAFETY
The Hierarchy of Fall Protection Solutions Learn more about our team and what sets us apart as industry experts in fall protection, ground support and material handling industries.
Check to see what the OSHA regulations for working at heights and fall protection are and which Gargoyle Rooftop Guardrail systems help you comply.
Our team is committed to providing the highest level of customer service. If you didn't find the information you were looking for, please contact us.
We offer a huge selection of products and quick quotes for what you're looking for
Give us a call. Our friendly customer service staff are on hand to help you.