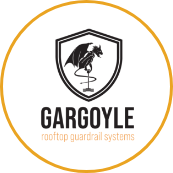 A permanent freestanding guardrail system, which is non penetrating, and safely protects workers from falls through open rooftop hatches. Gargoyle Hatch Guardrail allows for our guardrail system to be integrated with virtually any rooftop opening. This system comes standard with a spring loaded gate, ensuring the gate always returns to the safe closed position. An optional fixed grab bar when exiting or entering the rooftop can be included as requested.
Custom sizes are available for non standard hatches or rooftop openings.
Accident Report Detail:
At approximately 11:20 a.m. on April 11, 2008, an employee sustained a fracture to his right leg when he fell through a roof opening designed for a roof hatch plan, 10-feet, 10-inches elevation, to the concrete floor below. The area was above the planned electrical room with a newly sheeted roof. The emergency medical services were called. Upon assessment of the employee's condition by the paramedic, he was airlifted to Loma Linda University Medical Center, where he underwent surgery for fractured leg and in-patient hospitalization for a day.
Gargoyle Hatch Guardrail, Hatchbar
Allow your contractors and employees to safely enter and exit your rooftop hatch with the addition of a hatch bar. These roof hatch grab bars mount directly to the frame of the hatch and act as a single point of assistance. With the addition of this roof hatch grab bar, your entry onto rooftops will be both quick and safe. This accessory is designed to work on all makes and models of roof hatches and has been rigorously tested to meet stringent weight and durability requirements.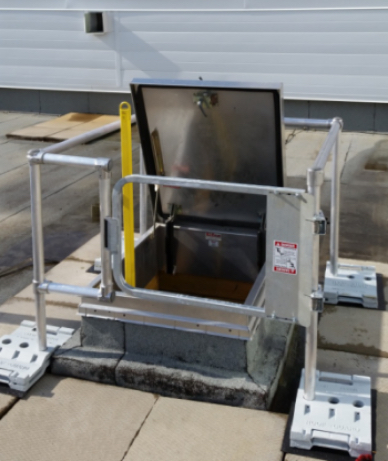 Components
Specifications
Features
Regulations
Resources
Components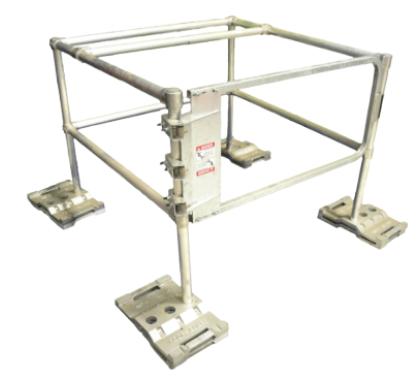 All products are customizable depending on rooftop layout
and applications and include:
Grated slip resistant walkways
Complete installation manual and layout drawings
Counter weighted baseplates
Rubber mats to protect rooftop membrane
Vertical posts
Horizontal rails
Set Screws
Specifications
Features
Regulations
Resources
Gargoyle Line Of Products
An investment in fall protection
ON THE LEADING EDGE OF SAFETY
Passive Vs Active Fall Protection
A "passive" fall protection system refers to a system that is non-dynamic, stationary, and does not move or adapt or change when in or out of use. They do not require the use of Personal Protective Equipment or active participation from the worker. Typical passive solutions include Guardrails or Netting Systems. This is the preferred choice for its ease of use without the need for additional training and PPE.
An "active" Fall Protection System requires the use of special equipment and participation by the worker. There are two types of Active Fall Protection Systems, fall restraint and fall arrest systems. These systems share the common feature of securing the worker wearing a full-body harness to an anchorage point with some type of connecting system, depending on the application. Active Fall Protection Systems include Fall Arrest Anchors, Roof Anchors, and Safety Harness'.
Learn more about our team and what sets us apart as industry experts in fall protection, ground support and material handling industries.
Check to see what the OSHA regulations for working at heights and fall protection are and which Gargoyle Rooftop Guardrail systems help you comply.
Our team is committed to providing the highest level of customer service. If you didn't find the information you were looking for, please contact us.
We offer a huge selection of products and quick quotes for what you're looking for
Give us a call. Our friendly customer service staff are on hand to help you.