Factory Supply offers a complete line of Industrial Rack Netting as a cost-effective, engineered solution designed to make warehouses safer for employees and visitors. Our rack netting is installed on the back of storage racking to protect aisle ways, work areas and machinery from products that may become dislodged and fall to the ground below.
Our system has been designed and tested specifically for industrial racking applications. Each custom design utilizes engineered offset and extension brackets, custom-sized netting panels, and load-rated cable systems to adapt to any racking configuration.
RackGuard netting panels are treated to meet NFPA 701 standards for fire-retardancy and have been tested and rated in accordance with ANSI A10.11 and OSHA safety standards. This includes the complete system with all of the hardware installed onto a racking system and tests made to simulate a real-case product falls.
1910.29(b)(1) The top edge height of top rails, or equivalent guardrail system members, are 42 inches (107 cm), plus or minus 3 inches (8 cm), above the walking working surface. The top edge height may exceed 45 inches (114 cm), provided the guardrail system meets all other criteria of paragraph (b) of this section.
Know The Risks - OSHA Accident Report Detail
At 11:17 p.m. on November 5, 2019, an employee was working for a big box retailer of housewares. He was in a warehouse. He was operating a Crown order picker. He was using the order picker to retrieve an order from a racking system. A box on the order picker came into contact with a racking system stanchion. The box was propelled into the employee's operating station. The employee's torso was crushed by the box. The employee was killed.
STANDARD OFFSET RACK NETTING
Our standard netting systems typically use engineered offset brackets to run the cables and allow the netting panels to be installed a certain distance from the face of the racking. This allows for pallet/product overhang. Standard offsets have an allowance for 4" or 6" settings, but offsets are available in sizes ranging from 2" up to 12".
These netting systems sit flush to the racking system, helping to ensure that no product will fall. Ideal for applications where there is no pallet overhang or product is loaded by hand. This system uses the same components as our standard netting, except for the use of flush mount brackets to ensure the netting panel is as close to the rack as possible.
RACK NETTING WITH FRAME EXTENSIONS
With the emphasis on utilizing as much warehouse space as possible, companies are storing products higher on their racks. Engineered frame extensions are available to increase the height of the frame and allow netting protection for products on the upper load beam. Our frame extensions come in 1, 2, 3 and 4 ft variations. Custom options are available.
The flue space between racking systems is often an area that sees a high volume of product falls and damages that workers are unable to access. Our Rack Netting System can be installed within this space to help reduce product loss and keep products from getting mixed up with another pallet load.
Our horizontal rack netting systems are installed within the racking itself to ensure the safety of workers who are entering racking bays to access product and are at risk of having a box fall from an upper level. This custom configuration utilizes specific brackets for mounting inside the rack. Out custom horizontal netting brackets mount inside the racking system to hang our standard 2500 lbs pallet net. Custom options are available.
Freestanding engineered barrier netting systems, built to protect stacked product storage. Installing these systems along walkways or near workstations ensures the safety of employees and materials. Systems are designed based on the total height of coverage, weight of each box, tote or pallet stacked, and the total coverage length. Freestanding or floor-to-ceiling posts are designed and engineered for each specific application. See barrier netting for more details.
Components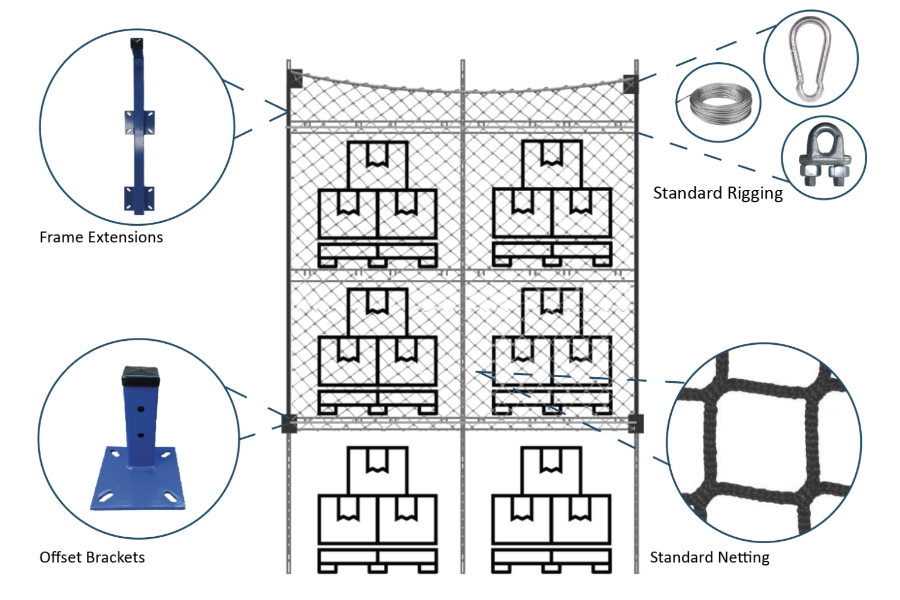 OFFSET BRACKET
The flue space between racking systems is often an area that sees a high volume of product falls and damages that workers are unable to access. Our Rack Netting System can be installed within this space to help reduce product loss and keep product from getting mixed up with another pallet load.
Available offset brackets: 2", 3", 4", 6", 9", 10", 12" & custom sizes
Flush mount options available
OFFSET BRACKET
1/4" AirCraft Cable (for up to 3000 lbs pallets)
3/8" (3500 – 5000 lbs pallet load)
NETTING PANEL
2500 lbs net – 2" square, industrial safety netting
3000 lbs net – 2" square, industrial safety netting
6000 lbs net – 2-½" square, fall arrest netting
EXTENSION BRACKET
Available from 1 ft up to 6 ft in height
STANDARD RIGGING
Wire Rope Clips
Thimbles
Turnbuckles
Eyebolts
Safety Snap Hooks
Specifications/Features
Applications
Regulations
Resources
Protecting people and products
Why soft catch netting?

Our netting is a soft catch product that absorbs energy as an object falls into it. The system disperses energy from impact point to guard frame, cable, and attachment points. Unlike rigid barriers, our nets are allowed to flex at impact, dissipating energy, and providing less excess force to the netting system itself, keeping your personnel and materials safe.
We meet all your custom project needs from start to finish. Our in-house engineering team will ensure quick sign-off on all custom orders and testing while meeting the exact specifications required for your equipment.
You can expect top-of-the-line products and excellent customer service. From design to installation, our team will walk you through the process and help you reach the best solution for your facility needs.
To request a consultation, please click here, and we'll get back to you as soon as possible.
What are the risks?
In 2018 there were 786 fatalities from being struck by a falling object or equipment, 325 were caused by a falling object.
I fact, the top 2 leading causes of workplace injuries in North America are slips, trips and falls and struck by objects.
137,650 injuries from being struck by falling objects or equipment
16,070 injuries from falls off of trucks
22,020 construction fall injuries
1750 fans injured every year by foul balls in mlb ballparks
What's the cost?
$41,000 per medically consulted injury
$7,277,090,000 in direct costs in 2018 alone
Offer a wide range of high-quality engineered netting solutions to your customers.
Learn more about our team and what sets us apart as industry experts in fall protection, ground support and material handling industries.
Dive into the latest netting options our team has to offer. This catalogue will provide a complete overview of our products and services.
Our team is committed to providing the highest level of customer service. If you didn't find the information you were looking for, please contact us.
We offer a huge selection of products and quick quotes for what you're looking for
Give us a call. Our friendly customer service staff are on hand to help you.