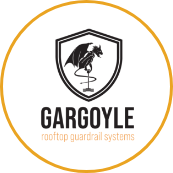 Gargoyle Skylight Guardrail
The dangers of working near rooftop skylights are very real. In fact, the U.S. Occupational Safety and Health Administration (OSHA) has a comprehensive list of 966 fall through accidents involving skylights dating back to 1983, most of which were fatal. Our Gargoyle Skylight Guardrail System was specifically designed to address fall protection risks and regulations without minimizing light from your skylights. Each system is free standing and utilizes our counter weighted baseplates, eliminating the need for hardware connections that penetrate your rooftop and potentially cause leaks.
These systems come engineered on a single pallet with easy to follow instructions and a single tool for installation. This free-standing, portable, modular system is constructed with corrosion resistant lightweight aluminum tubing.
Factory Supply is the manufacturer of Gargoyle Rooftop Guardrail, a versatile, economical and modular rooftop guardrail system designed to protect employees and contractors that perform working at heights job functions. Not requiring any penetration of the roof membrane during installation eliminates the risk of leaks. And as a passive fall protection solution, Gargoyle Rooftop Guardrail is the preferred rooftop safety solution. Factory Supply's guardrail products exceed all OSHA safety regulations, protecting your business from unnecessary liability or fines.
The OSHA General Industry Standard requires that "every skylight floor opening and hole shall be guarded by a standard skylight screen or a fixed standard railing on all exposed sides" [29 CFR 1910.23(a)(4)].
At 3:20 a.m. on March 31, 2020, Employee #1, employed by a concrete construction company, was working at a multiemployer project, a three-story commercial building undergoing repair/renovation. He was walking backward and unrolling an Argon welding hose when he fell through a skylight, a fall height of 26 feet, and struck the concrete surface. The employee was killed.
Components
Specifications
Features
Regulations
Resources
Components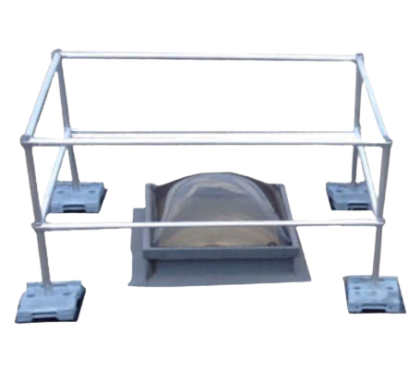 All products are customizable depending on rooftop layout
and applications and include:
Grated slip resistant walkways
Complete installation manual and layout drawings
Counter weighted baseplates
Rubber mats to protect rooftop membrane
Vertical posts
Horizontal rails
Set Screws
Specifications
Features
Regulations
Resources
Gargoyle Line Of Products
An investment in fall protection
ON THE LEADING EDGE OF SAFETY
Passive Vs Active Fall Protection
A "passive" fall protection system refers to a system that is non-dynamic, stationary, and does not move or adapt or change when in or out of use. They do not require the use of Personal Protective Equipment or active participation from the worker. Typical passive solutions include Guardrails or Netting Systems. This is the preferred choice for its ease of use without the need for additional training and PPE.
An "active" Fall Protection System requires the use of special equipment and participation by the worker. There are two types of Active Fall Protection Systems, fall restraint and fall arrest systems. These systems share the common feature of securing the worker wearing a full-body harness to an anchorage point with some type of connecting system, depending on the application. Active Fall Protection Systems include Fall Arrest Anchors, Roof Anchors, and Safety Harness'.
Learn more about our team and what sets us apart as industry experts in fall protection, ground support and material handling industries.
Check to see what the OSHA regulations for working at heights and fall protection are and which Gargoyle Rooftop Guardrail systems help you comply.
Our team is committed to providing the highest level of customer service. If you didn't find the information you were looking for, please contact us.
We offer a huge selection of products and quick quotes for what you're looking for
Give us a call. Our friendly customer service staff are on hand to help you.