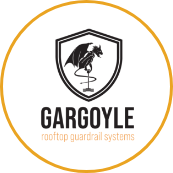 Gargoyle Rooftop Guardrail
A versatile, economic and modular fall protection system designed to protect employees performing job functions at, or near, the leading edge while working at heights. Gargoyle Guardrail systems eliminate the need for active fall protection equipment such as harnesses and lanyards, roof anchor systems, horizontal lifelines, and training.
This free-standing rooftop system comes pre-engineered and is packaged for cost effective shipping. Our freestanding, portable, modular systems are constructed with corrosion resistant lightweight aluminum tubing and utilize counter-weighted baseplates, so no roof penetration is required, meaning that your roof remains intact. Our unique, low-profile, stackable base plates weigh only 40 lbs and are designed with a carry handle allowing for an easy, ergonomically friendly installation.
Once a guardrail is in position, all individuals working in that area are protected from potential fall hazards, and they do not require further Working at Heights training or fall protection.
Don't risk expensive fines for compliance violations. Our affordable and reliable system is the solution you need to keep employees and customers safe from potential falls.
OSHA 1910.29(b) contains system requirements that employers must follow to ensure guardrail systems will protect workers from falling to lower levels.
1910.29(b)(1) The top edge height of top rails, or equivalent guardrail system members, are 42 inches (107 cm), plus or minus 3 inches (8 cm), above the walking working surface. The top edge height may exceed 45 inches (114 cm), provided the guardrail system meets all other criteria of paragraph (b) of this section.
Know The Risks - OSHA Accident Report Detail
At 12:00 p.m. on September 4, 2019, an employee with a steel erection framing company was working on the second floor a building when he fell off of the second floor decking 20 feet to the concrete floor. The employee sustained unspecified injuries and was killed.
9' Gargoyle Rooftop Guardrail
12' Gargoyle Rooftop Guardrail
18' Gargoyle Rooftop Guardrail
27' Gargoyle Rooftop Guardrail
Custom Gargoyle Rooftop Guardrail
9' Gargoyle Rooftop Guardrail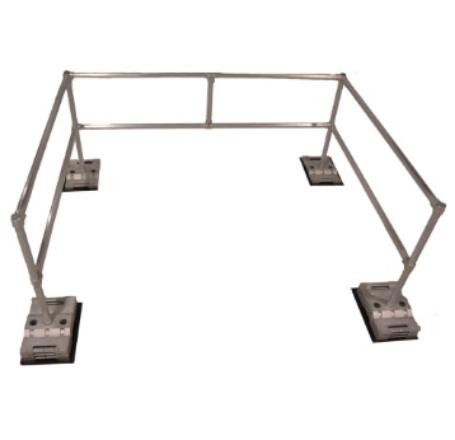 9' Gargoyle Rooftop Guardrail
9 ft. of leading edge Fall Protection. It requires no rooftop penetration, and can be categorized as a passive Fall Protection solution. This particular system is ideal for providing reliable Fall Protection around HVAC units, vents, near access ladders, antennas, valves, solar panels, or simply near frequently travelled areas that require routine maintenance.
---
---
Height 42" (ground to top-rail)
---
Dimensions 9′-4″ x 15″ x 18″
---
Diameter of Rail 1.9" OD Aluminum Pipe
---
Unit Weight450 lbs
---
Kit available
Single tool supplied for assembly
Complete installation manual and layout drawings Counterweighted baseplates
Rubber mats to protect the rooftop membrane
Pre-assembled vertical posts
Horizontal rails
Set screws and hardware
All parts and materials are supplied on a single pallet
---
12' Gargoyle Rooftop Guardrail
18' Gargoyle Rooftop Guardrail
27' Gargoyle Rooftop Guardrail
Custom Gargoyle Rooftop Guardrail
Components
Specifications/Features
Applications
Regulations
Resources
Components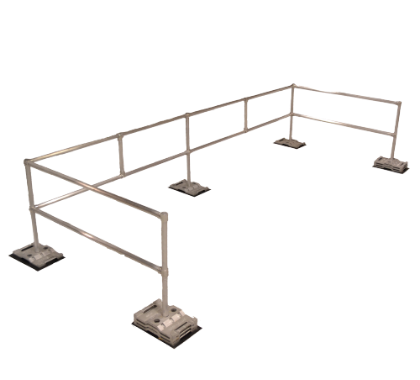 All products are customizable depending on rooftop layout
and applications and include:
Grated slip resistant walkways
Complete installation manual and layout drawings
Counter weighted baseplates
Rubber mats to protect rooftop membrane
Vertical posts
Horizontal rails
Set Screws
Specifications/Features
Applications
Regulations
Resources
Gargoyle Line Of Products
An investment in fall protection
ON THE LEADING EDGE OF SAFETY
Passive Vs Active Fall Protection
A "passive" fall protection system refers to a system that is non-dynamic, stationary, and does not move or adapt or change when in or out of use. They do not require the use of Personal Protective Equipment or active participation from the worker. Typical passive solutions include Guardrails or Netting Systems. This is the preferred choice for its ease of use without the need for additional training and PPE.
An "active" Fall Protection System requires the use of special equipment and participation by the worker. There are two types of Active Fall Protection Systems, fall restraint and fall arrest systems. These systems share the common feature of securing the worker wearing a full-body harness to an anchorage point with some type of connecting system, depending on the application. Active Fall Protection Systems include Fall Arrest Anchors, Roof Anchors, and Safety Harness'.
The Hierarchy of Fall Protection Solutions Learn more about our team and what sets us apart as industry experts in fall protection, ground support and material handling industries.
Check to see what the OSHA regulations for working at heights and fall protection are and which Gargoyle Rooftop Guardrail systems help you comply.
Our team is committed to providing the highest level of customer service. If you didn't find the information you were looking for, please contact us.
We offer a huge selection of products and quick quotes for what you're looking for
Give us a call. Our friendly customer service staff are on hand to help you.