Fall hazards are a major concern when an opening in the floor is not properly protected. According to OSHA fall protection regulations, such openings must be guarded or covered when not in use. Netting systems are a safe and effective solution that meet or exceed fall protection requirements.
Oil Pit Netting Systems are specifically designed in order to suit your existing service bays and provide a reliable solution with minimal impact on day-to-day operations. Our unique design allows for easy movement of the netting and requires minimal modifications to the existing automotive service pits (some welding of lugs is required to install the cables).
Don't risk expensive fines for compliance violations. Our affordable and reliable system is the solution you need to keep employees and customers safe from potential falls.
Know The Risks - OSHA Accident Report Detail
On October 2, 2010, Employee #1 was assembling a tire rack from a second tier, apparently at a height of approximately 7.5 feet. When a forklift hit the rack and knocked it over, Employee #1 fell a total distance of approximately 12 feet, into a 4-foot, 6-inch-deep service pit. He sustained fractured ribs and bruises and was hospitalized for five days.
Components
Specifications/Features
Applications
Regulations
Resources
Components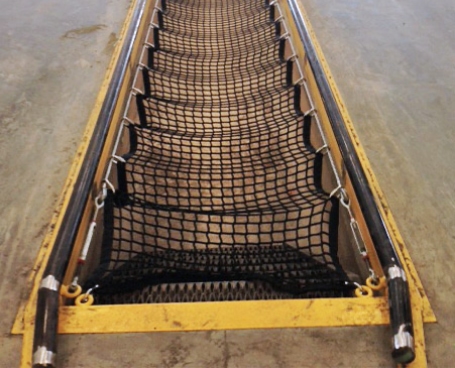 AIRCRAFT CABLE (GALVANIZED CABLE)


1/4" AirCraft CABLE (7000 lbs breaking strength)

NETTING PANEL


6000 lbs net – 2-½" square

STANDARD RIGGING


Lugs
Wire Rope Clips
Thimbles
Turnbuckles
Eyebolts
Safety Snap Hooks
Quick Link
Specifications/Features
Applications
Regulations
Resources
Protecting people and products
Why soft catch netting?

Our netting is a soft catch product that absorbs energy as an object falls into it. The system disperses energy from impact point to guard frame, cable, and attachment points. Unlike rigid barriers, our nets are allowed to flex at impact, dissipating energy, and providing less excess force to the netting system itself, keeping your personnel and materials safe.
We meet all your custom project needs from start to finish. Our in-house engineering team will ensure quick sign-off on all custom orders and testing while meeting the exact specifications required for your equipment.
You can expect top-of-the-line products and excellent customer service. From design to installation, our team will walk you through the process and help you reach the best solution for your facility needs.
To request a consultation, please click here, and we'll get back to you as soon as possible.
What are the risks?
In 2018 there were 786 fatalities from being struck by a falling object or equipment, 325 were caused by a falling object.
I fact, the top 2 leading causes of workplace injuries in North America are slips, trips and falls and struck by objects.
137,650 injuries from being struck by falling objects or equipment
16,070 injuries from falls off of trucks
22,020 construction fall injuries
1750 fans injured every year by foul balls in mlb ballparks
What's the cost?
$41,000 per medically consulted injury
$7,277,090,000 in direct costs in 2018 alone
Offer a wide range of high-quality engineered netting solutions to your customers.
Learn more about our team and what sets us apart as industry experts in fall protection, ground support and material handling industries.
Dive into the latest netting options our team has to offer. This catalogue will provide a complete overview of our products and services.
Our team is committed to providing the highest level of customer service. If you didn't find the information you were looking for, please contact us.
We offer a huge selection of products and quick quotes for what you're looking for
Give us a call. Our friendly customer service staff are on hand to help you.