Falls off of flatbed trucks during loading and unloading operations are on the rise, in 2018 alone there were 17,060 injuries. Irregular materials such as steel, pipe, timber, unbalanced loads, and a lack of fall protection safety knowledge within the industry are the major contributing factors.
Companies are responsible to implement effective flatbed safety strategies and fall protection equipment, for employees working at heights of over 4 ft (OSHA). Ensure you have adequate fall production for your employees using our Truck Netting Systems. Designed to mount directly to your facilities floor or wall, our systems provide a "soft catch" barrier to protect personnel as they load/unload materials.
No two applications are exactly the same, which is why we utilize professional engineers and fall protection experts to create a system custom designed for your facility and usage needs. Reduce the risks of falls from flatbeds with our three versatile systems including; Standard Truck Netting Systems, Portable Truck Netting Systems, and Pivoting Truck Netting Systems. These systems are designed to eliminate fall protection concerns and the need for extra training or PPE.
Know The Risks - OSHA Accident Report Detail
On December 21, 2018, an employee was strapping down pallets to a flatbed trailer. The employee was retrieving a strap that had gotten caught on the top of a pallet and fell off of the trailer, striking the back of his head on the asphalt driveway. The employee was killed from severe blunt force trauma to his head.
Standard TRUCK NETTING SYSTEM
Our Standard Truck Netting System is designed to mount directly to your facilities floor or wall and provides a "soft catch" for personnel who may fall during loading/unloading of materials. Netting systems are custom designed to meet the demands of your facility, while quickly attaching to the bed of the truck, creating a safe working environment.

Let's chat about how these systems can be integrated into your facility.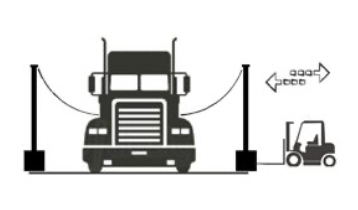 Portable TRUCK NETTING SYSTEM

Our Portable Truck Netting Systems include weighted bases with fixed vertical columns that can be moved and used in multiple locations. The netting is attached with wire rope and custom brackets which attach to the stake pockets of the flatbed trailer. Bases have fork pocket holes to assist in moving them into position. Typically used in applications where you don't want to pour footings to mount posts. Commonly used outdoors as a tarping/load securement station.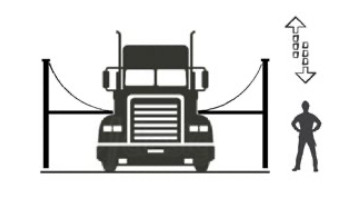 Pivoting TRUCK NETTING SYSTEM

Our Pivoting Truck Netting Systems are ideal for facilities that have multiple use bays, or where customers do not want to connect directly to the flatbed. Arms swing out from the fixed columns and butt up against the side of the flatbed. No direct connection to the flatbed is required. System has been engineered to open or close easily, with no additional setup required for the netting panel.

Let's chat about how these systems can be integrated into your facility.
Components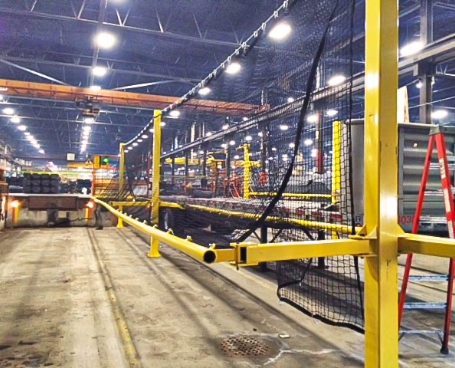 AIRCRAFT CABLE (GALVANIZED CABLE)


3/8″ (14000 lbs breaking strength)

NETTING PANEL


3000 lbs net – 2" square, same level fall protection

STANDARD RIGGING


Wire Rope Clips
Thimbles
Turnbuckles
Eyebolts
Safety Snap Hooks
Swingarm (pivoting)
Turnbuckle tensioner
Stake Pocket Fitting (standard)

POST

Specifications/Features
Applications
Regulations
Resources
Protecting people and products
Why soft catch netting?

Our netting is a soft catch product that absorbs energy as an object falls into it. The system disperses energy from impact point to guard frame, cable, and attachment points. Unlike rigid barriers, our nets are allowed to flex at impact, dissipating energy, and providing less excess force to the netting system itself, keeping your personnel and materials safe.
We meet all your custom project needs from start to finish. Our in-house engineering team will ensure quick sign-off on all custom orders and testing while meeting the exact specifications required for your equipment.
You can expect top-of-the-line products and excellent customer service. From design to installation, our team will walk you through the process and help you reach the best solution for your facility needs.
To request a consultation, please click here, and we'll get back to you as soon as possible.
What are the risks?
In 2018 there were 786 fatalities from being struck by a falling object or equipment, 325 were caused by a falling object.
I fact, the top 2 leading causes of workplace injuries in North America are slips, trips and falls and struck by objects.
137,650 injuries from being struck by falling objects or equipment
16,070 injuries from falls off of trucks
22,020 construction fall injuries
1750 fans injured every year by foul balls in mlb ballparks
What's the cost?
$41,000 per medically consulted injury
$7,277,090,000 in direct costs in 2018 alone
Offer a wide range of high-quality engineered netting solutions to your customers.
Passive Vs Active Fall Protection
A "passive" fall protection system refers to a system that is non-dynamic, stationary, and does not move or adapt or change when in or out of use. They do not require the use of Personal Protective Equipment or active participation from the worker. Typical passive solutions include Guardrails or Netting Systems. This is the preferred choice for its ease of use without the need for additional training and PPE.
An "active" Fall Protection System requires the use of special equipment and participation by the worker. There are two types of Active Fall Protection Systems, fall restraint and fall arrest systems. These systems share the common feature of securing the worker wearing a full-body harness to an anchorage point with some type of connecting system, depending on the application. Active Fall Protection Systems include Fall Arrest Anchors, Roof Anchors, and Safety Harness'.
Learn more about our team and what sets us apart as industry experts in fall protection, ground support and material handling industries.
Dive into the latest netting options our team has to offer. This catalogue will provide a complete overview of our products and services.
Our team is committed to providing the highest level of customer service. If you didn't find the information you were looking for, please contact us.
We offer a huge selection of products and quick quotes for what you're looking for
Give us a call. Our friendly customer service staff are on hand to help you.