We offer a complete line of fixed access ladders that are custom fabricated to meet your exact application requirements. All of our fixed access ladders are designed to be a permanent and safe means of rooftop access and are engineered to support reasonable loads. We ensure that all of our fixed access ladders are designed in a way that meets or exceeds all regulations.
Our line of fixed access ladders offers a variety of features to help you customize your perfect wall-mounted ladder. Available with rail extensions or different material options (steel, galvanized steel or aluminum), these ladders can be customized to your organization's needs. Ranging from 2 – 50 rungs, a variety of heights are available.
You have the option to customize your fixed access ladder with our LadderGuard system to provide a safe zone for anyone getting on or off an access ladder.

Steel

Aluminum

Galvanized steel

Steel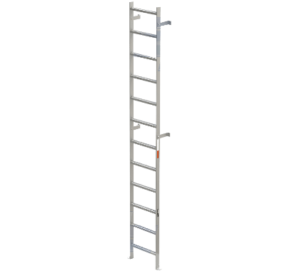 Steel Fixed Access Ladders
Factory Supply's steel fixed access ladders are a permanent solution to provide easy access to roofs, mezzanines or loading docks including exterior roof access and interior access to roof hatches and platforms. They are designed for maximum climbing comfort and user confidence, allowing workers to safely access these levels with ease.

Aluminum

Galvanized steel
Customized Ladder Solutions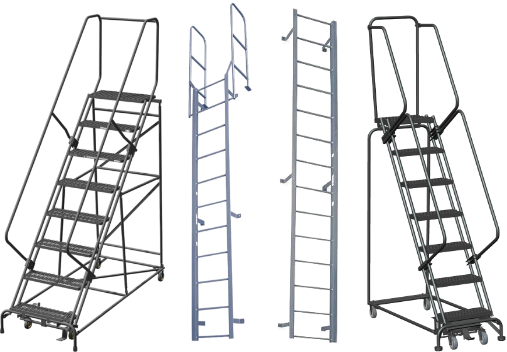 Not able to find the access solution you are looking for? Our industrial equipment specialists can support with specific product recommendations for your facility. You can also take advantage of our in-house engineering and fabrication teams to design and build custom access and maintenance ladders and platforms based on the work, functions and regulations that affect your project.
How to choose the ladder size you need.
There are many things to consider before ordering a new ladder for your facility to ensure you have the perfect features and performance benefits to suit the task. Here are some things to consider.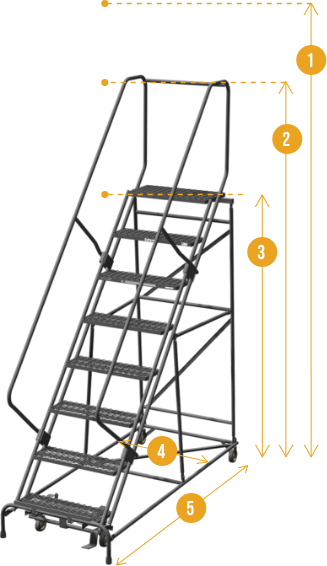 Ladder Features and Benefits
Learn more about our team and what sets us apart as industry experts in fall protection, ground support and material handling industries.
See if we have already solved the
problem you are having by viewing
the latest projects delivered by
Factory Supply. 
Our team is committed to providing the highest level of customer service. If you didn't find the information you were looking for, please contact us.
We offer a huge selection of products and quick quotes for what you're looking for
Give us a call. Our friendly customer service staff are on hand to help you.