Factory Supply offers custom conveyor guard netting systems tailored to your facilities operational needs. Aerial Conveyor safety has been an increasing concern in America, as it forces companies to create safe working environments without compromising efficiency and productivity.
Traditionally, the four main imminent concerns with Overhead Conveyor Systems include: 
Our systems have been engineered to address and eliminate all of these concerns. Our Conveyor Netting Systems utilize high strength, fire-resistant 1" mesh netting panels, combined with wire rope to secure any product falls with a "soft catch" solution. This means that not only will your employees be protected below from falls, your products will not be damaged either.
Implementing proper conveyor netting systems will result in an immediate increase in safety throughout your facility. Our soft-catch netting systems can be customized to every conveyor set-up using various net types that won't rust, peel, rot or dent like metal containment systems. Conveyor Netting Systems are tailored to your facilities operational needs, installed in a manner which does not obstruct workflow or equipment, and rated for your products capacity specifically. Rely on our netting experts to provide you with a fast quote that accurately reflects the fall protection needs of your space.
Compliant with ANSI b.20.1 standard for conveyor safety and OSHA 1926.555 (a) (5) requirements for conveyor safety: "Where a conveyor passes over work areas, aisles, or thoroughfares, suitable conveyor guards shall be provided to protect employees required to work below the conveyors."
Know The Risks - OSHA Accident Report Detail
At 3:00 p.m. on August 1, 2018, Employee #1 was feeding washed hospital bedding into an industrial ironing machine. Bundles of laundry were moved by an overhead conveyor system and brought to the ironing stations. The laundry was dropped fr om approximately 17 feet above the ground, into a bin for the machine operators to place into the ironing machines. Two of the bundles were in line together, an d one pushed the other off of the track. The bundle and the 13 pound pulley hold ing it on the conveyor system came off of the conveyor and fell, striking the employee in the back of the head and neck. The employee was not provided with head protection to prevent being struck in the head from the laundry and miscellaneous equipment on the conveyor system. Employee #1 was hospitalized for his injuries.
All projects will involve custom netting configurations to fit your space.

To maximize space in warehouses, companies install conveyor systems that are supported by the roof structure. Factory Supply provides conveyor netting systems that tie into the ceiling support structure using angle irons and threaded rods to provide complete side converge as well as coverage underneath the conveyor to catch falling materials.
All projects will involve custom netting configurations to fit your space.


This system utilizes our extension brackets to increase the available area for protective netting. The brackets will attach to the existing conveyor support posts. Netting can then be added below and to the sides of the conveyor. Custom netting sizes will be needed depending on spacing of extension brackets.
All projects will involve custom netting configurations to fit your space.
Horizontal panels can be installed under the conveyor to protect from falling materials. System can be installed on its own or with other conveyor netting applications.
Let's chat about how these systems can integrate with your existing equipment. 
Components
Specifications/Features
Applications
Regulations
Resources
Components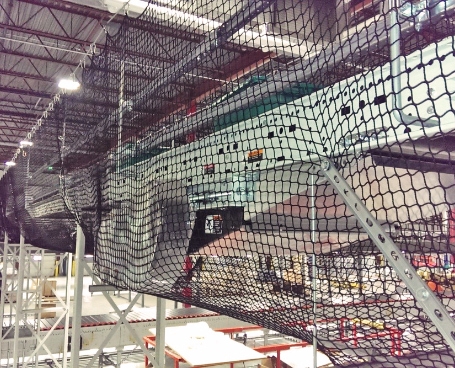 AIRCRAFT CABLE (GALVANIZED CABLE)

NETTING PANEL


1000 lbs netting – 1" square

EXTENSION BRACKET (optional)


Available from 1 ft up to 6 ft in height

STANDARD RIGGING


Wire Rope Clips
Thimbles
Turnbuckles
Eyebolts
Safety Snap Hooks
Threaded rods
Many custom options
Angle iron
Specifications/Features
Applications
Regulations
Resources
Protecting people and products
Why soft catch netting?

Our netting is a soft catch product that absorbs energy as an object falls into it. The system disperses energy from impact point to guard frame, cable, and attachment points. Unlike rigid barriers, our nets are allowed to flex at impact, dissipating energy, and providing less excess force to the netting system itself, keeping your personnel and materials safe.
We meet all your custom project needs from start to finish. Our in-house engineering team will ensure quick sign-off on all custom orders and testing while meeting the exact specifications required for your equipment.
You can expect top-of-the-line products and excellent customer service. From design to installation, our team will walk you through the process and help you reach the best solution for your facility needs.
To request a consultation, please click here, and we'll get back to you as soon as possible.
What are the risks?
In 2018 there were 786 fatalities from being struck by a falling object or equipment, 325 were caused by a falling object.
I fact, the top 2 leading causes of workplace injuries in North America are slips, trips and falls and struck by objects.
137,650 injuries from being struck by falling objects or equipment
16,070 injuries from falls off of trucks
22,020 construction fall injuries
1750 fans injured every year by foul balls in mlb ballparks
What's the cost?
$41,000 per medically consulted injury
$7,277,090,000 in direct costs in 2018 alone
Offer a wide range of high-quality engineered netting solutions to your customers.
Learn more about our team and what sets us apart as industry experts in fall protection, ground support and material handling industries.
Dive into the latest netting options our team has to offer. This catalogue will provide a complete overview of our products and services.
Our team is committed to providing the highest level of customer service. If you didn't find the information you were looking for, please contact us.
We offer a huge selection of products and quick quotes for what you're looking for
Give us a call. Our friendly customer service staff are on hand to help you.