PHS WEST SPECIALIZED VEHICLES
Factory Supply has teamed up with PHS West to provide specialized ergonomic transportation solutions for a variety of uses. PHS West products meet the unique challenges faced in specialized industries as a premium provider of medical carts, service carts, lifters, power drive, and patient belongings solutions. We can update your transportation equipment to fulfill the needs of a demanding and unique environment, from health care facilities to data centres.
When pushing or dragging heavy equipment, these material handling devices are ideal for maintaining worker safety and enhancing efficiency. These products improve operator safety and are simple to operate, requiring no minimal training.
Injury incident: Accident Report Detail
At 9:55 a.m. on October 12, 2020, an employee was moving the server rack from the testing room to the Packing Room. The employee was injured when the server rack weighing approximately 1,700 pounds tipped over on top of him, crushing his right leg. The employee was transported to the hospital for treatment.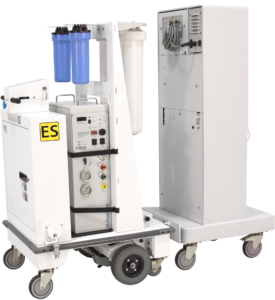 For the healthcare market, get access to material handling equipment, departmental specific carts, and a patient belonging's system. Our products have been thoroughly tested in today's hospitals and remain the industry standard. Create the ideal solution for your health care equipment and supply needs with unlimited customization choices.
Endoscopy Carts
Dialysis Carts
Motorized Patient Transport Chairs
Motorized Carts
Endoscopy Carts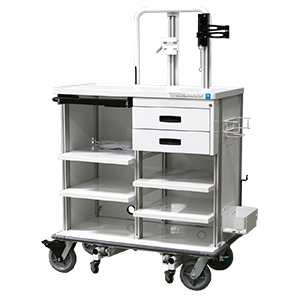 Endoscopy Carts
Intended to meet the specific issues that endoscopy departments encounter. We will create deliberately constructed solutions that will last for years, whether it be small procedure rooms, long travel cases, or a shortage of storage. We work with you to design an endo cart that fits your endoscopic supplies and gadgets flawlessly. Using our modular components, create a separate storage cart or an all-in-one endoscopy travel cart.
Dialysis Carts
Motorized Patient Transport Chairs
Motorized Carts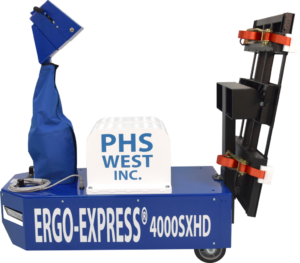 To effectively manage modern data centres, teams must adapt to any situation or problem that arises. PHS West pallet jacks, forklifts, manual transport solutions, motorized tugs, and motorized carts improve data centre infrastructure management efficiency and prevent common injuries.
Motorized Server Rack Tug
Server Lifter
Motorized Service Cart
Motorized Server Rack Tug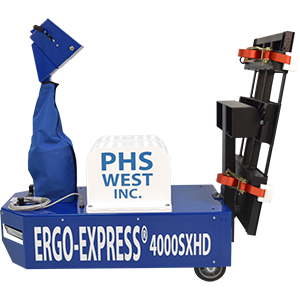 Motorized Server Rack Tug
The Motorized Server Rack Tugs are a safe and compact alternative for transporting server racks and other heavy server equipment that is already on a wheeled base, such as server cabinets and computer racks. One staff member can securely execute the same job that would ordinarily require numerous trips or several employees.
Server Lifter
Motorized Service Cart
Hitch Systems
Options & Accessories
Regulations
Applications
SUPPLIERS
Hitch Systems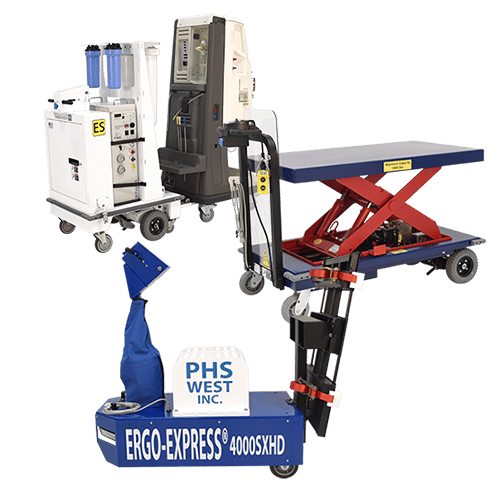 LIFTING HITCH: Easily connect to any under-cart frame at the touch of a button.

HITCH PLATE WITH STRAP: Connect and secure with spring-loaded straps.

HANDLE GRAB HITCH: Easily connect to any cart handle at the light press of a foot.

COUPLING HITCHES: Connect carts in "train"-like fashion to pull multiple at once.

UNIVERSAL HITCH: Easily connect to any cart frame at the light press of a foot.

CUSTOM HITCH: In more unique instances, work with our team to develop your solution.
Options & Accessories
Regulations
Applications
SUPPLIERS
Ergonomic Material Handling
An investment in workplace safety
Learn more about our team and what sets us apart as industry experts in fall protection, ground support and material handling industries.
See if we have already solved the
problem you are having by viewing
the latest projects delivered by
Factory Supply. 
Our team is committed to providing the highest level of customer service. If you didn't find the information you were looking for, please contact us.
We offer a huge selection of products and quick quotes for what you're looking for
Give us a call. Our friendly customer service staff are on hand to help you.