Tote and Box Handling Equipment
Factory Supply has an extensive line of Ergonomic Box and Tote Handling Equipment designed to improve efficiency and eliminate workplace injuries.
Depending on your facility and the nature of the work being performed, we have both portable and fixed systems which can be tailored to your specific material handling requirements.
Injury incident: Accident Report Detail
At 10:30 a.m. on February 2, 2018, an employee was lifting a box and felt a pain in his lower back. The employee was hospitalized due to a lower back sprain.
Vacuum lifter VT Model (Anver VT)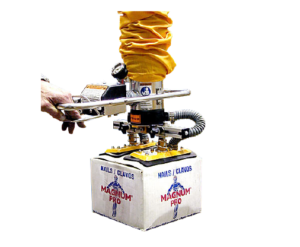 Vacuum lifter VT Model (Anver VT)
An ergonomic vacuum lifter that features a new interchangeable attachment for handling different types of large paper and plastic bags with ease. 
---
Function Fixed or portable bag lifting system
---
Capacity 125 lbs
---
Control Up and down control system with an easy-grip handle
---
Customizable Yes
---
Vacuum Lifter M Model (Easyhand M)
Vacuum Lifter Pro Model (Vacuhand Pro)
Vacuum Lifter Pro Model (Easyhand Pro)
Vacuum Lifter Pro Model (Easyhand ProRapid)
Custom box handling equipment
Features/benefits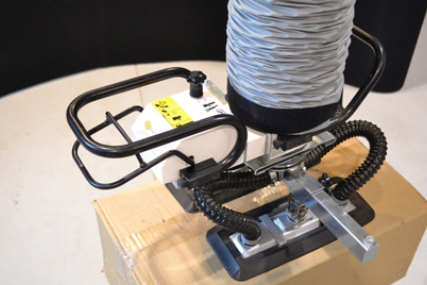 Drastic reduction in heavy/repetitive lifting
Customized for your specific application, designed to work with your product(s)
Reduction in workplace illness/injury claims, resulting in lower insurance costs
Allows for diversity/adaptability on the job, more workers are now able to complete the task without physical limitations being an issue
Our systems pay for themselves via productivity and efficiency increases
Weight and capacity ranges are considered during the design process, our systems can handle multiple weights, textures and products without altering the system
Designed to work in your specific facilities conditions, such as high heat, dust, humidity, moisture etc.
Applications
Regulations
Suppliers
Solutions Include
Ergonomic Material Handling
An investment in workplace safety
Learn more about our team and what sets us apart as industry experts in fall protection, ground support and material handling industries.
See if we have already solved the
problem you are having by viewing
the latest projects delivered by
Factory Supply. 
Our team is committed to providing the highest level of customer service. If you didn't find the information you were looking for, please contact us.
We offer a huge selection of products and quick quotes for what you're looking for
Give us a call. Our friendly customer service staff are on hand to help you.