Odd Shapes and Custom Material Handling
Customize for your facility needs
Material handling doesn't always require a standard solution. Your facility may have specialty equipment or hard to maneuver areas that standard material handling equipment can't reach. This often means employees are required to lift and maneuver materials in awkward positions, creating a significant risk for injury. This is the type of challenge that our engineers at Factory Supply are ready to take on.
Often custom solutions are necessary when customers are looking to lift and move odd shaped products that have an uneven surface and/or have multiple dimensions. The engineering team at Factory Supply can fabricate or assemble custom products with standard parts that can lift, angle, rotate and move irregular products while causing no damage to the product and meeting all specified requirements.
Our process
Our material handling specialists will start by visiting your site in order to analyze exactly what material handling equipment is needed to optimize the ergonomics at your workplace.
Following this visit, we will offer our expert professional advice and present to you our recommended material handling solution.
Once the system has been agreed upon we will design, manufacture and install it.
When the system has been installed our material handling specialist will come and train your staff on how to properly use the equipment.
Injury incident: Accident Report Detail
At approximately noon on July 21, 2004, Employee #1, with Volt Services Group (a temporary employer) was working in the utility room in the "Old Dehydrator" at LiDestri Foods Inc. (the secondary employer) in Fresno, CA. He was assigned by LiDestri Foods to organize the paint cabinet in the maintenance area of the utility room. A Maintenance Manager of LiDestri Foods directed Employee #1 to move small engines that were in the aisle to the back wall. When he attempted to pull and reposition a large 600-lb motor, Employee #1 felt something "snap" in his back, fell to ground, and called emergency services from his cellular phone. Another supervisor passing through the area found Employee #1 on the ground. He was transported to University Medical Center in Fresno, where he was hospitalized for swelling and pain caused by a pinched lumbar nerve. 
Features/benefits
Applications
Regulations
Suppliers
Solutions Include
Features/benefits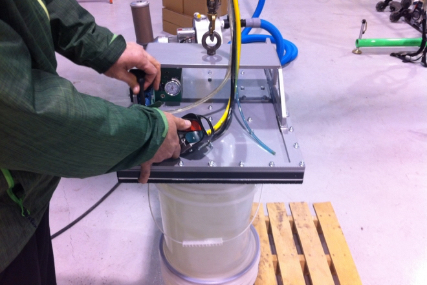 Drastic reduction in heavy/repetitive lifting
Customized for your specific application, designed to work with your product(s)
Reduction in workplace illness/injury claims, resulting in lower insurance costs
Allows for diversity/adaptability on the job, more workers are now able to complete the task without physical limitations being an issue
Our systems pay for themselves via productivity and efficiency increases
Weight and capacity ranges are considered during the design process, our systems can handle multiple weights, textures and products without altering the system
Designed to work in your specific facilities conditions, such as high heat, dust, humidity, moisture etc.
Applications
Regulations
Suppliers
Solutions Include
Ergonomic Material Handling
An investment in workplace safety
Learn more about our team and what sets us apart as industry experts in fall protection, ground support and material handling industries.
See if we have already solved the
problem you are having by viewing
the latest projects delivered by
Factory Supply. 
Our team is committed to providing the highest level of customer service. If you didn't find the information you were looking for, please contact us.
We offer a huge selection of products and quick quotes for what you're looking for
Give us a call. Our friendly customer service staff are on hand to help you.