Lifting sheets safely is often a challenging material handling problem as sheets are often bulky, heavy, and can be prone to damage. 
We offer a variety of vacuum sheet handling solutions designed in order to safely lift and move sheets made of a variety of materials.
The solutions we provide follow three distinct design principles: adaptability and flexibility, cost-effectiveness, and durability. Whether the solution you're looking for is simply lifting, rotating or tilting, we have the products and expertise to get the job done.
Injury incident: Accident Report Detail
At approximately 8:50 a.m. on May 6, 2003, Employee #1 was working in the press brake department of a stove manufacturing facility operating a Darley Press Brake, Model Number EHP50 25/20, Serial Number 12508. He was using the press brake to bend a 10-pound piece of 18-gauge sheet metal that was 37 inches long by 18 inches wide with notches on all four sides. While standing in front of the press brake, he held the top of the sheet metal with his left hand and the right side with his right hand. He was wearing white fabric gloves with black rubber dots on them. As he was turning the piece over, his left hand slipped downward and fell sideways to the left. The piece of sheet metal hit his left forearm and made a 4-inch laceration. He was hospitalized for 3 days with his injuries.
Metal Sheet Handling
Glass Sheet Handling
Stone Sheet Handling
Wood Sheet Handling
Metal Sheet Handling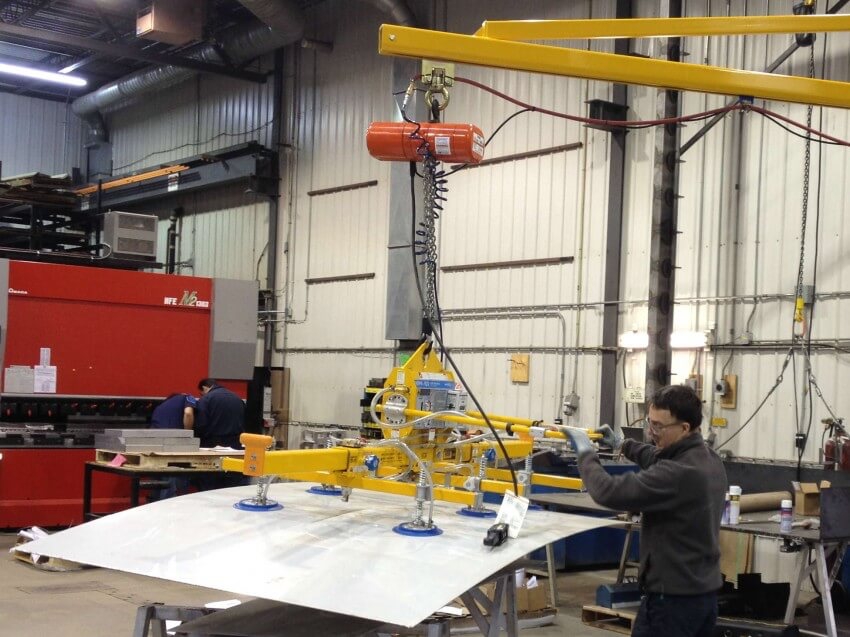 Metal Sheet Handling
Metal sheet handling can be a difficult process or your workforce that can cost excessive time and money. A vacuum sheet lifter can be the perfect addition to your facility to provide a necessary competitive advantage. Utilizing vacuum handling technology is the first step to increasing productivity/efficiency and simultaneously significantly reducing potential workplace injuries.
---
Function Light and heavy duty vacuum handling lifter
---
Capacity Various
---
Control Varies
---
Customizable Yes
---
Glass Sheet Handling
Stone Sheet Handling
Wood Sheet Handling
Features/benefits
Applications
Regulations
Suppliers
Solutions Include
Features/benefits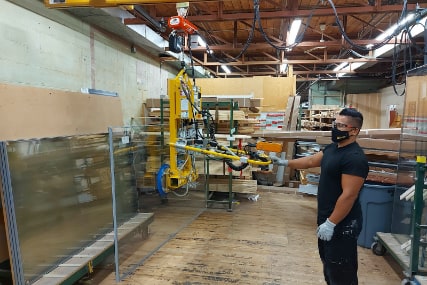 Drastic reduction in heavy/repetitive lifting
Customized for your specific application, designed to work with your product(s)
Reduction in workplace illness/injury claims, resulting in lower insurance costs
Allows for diversity/adaptability on the job, more workers are now able to complete the task without physical limitations being an issue
Our systems pay for themselves via productivity and efficiency increases
Weight and capacity ranges are considered during the design process, our systems can handle multiple weights, textures and products without altering the system
Designed to work in your specific facilities conditions, such as high heat, dust, humidity, moisture etc.
Applications
Regulations
Suppliers
Solutions Include
Ergonomic Material Handling
An investment in workplace safety
Learn more about our team and what sets us apart as industry experts in fall protection, ground support and material handling industries.
See if we have already solved the
problem you are having by viewing
the latest projects delivered by
Factory Supply. 
Our team is committed to providing the highest level of customer service. If you didn't find the information you were looking for, please contact us.
We offer a huge selection of products and quick quotes for what you're looking for
Give us a call. Our friendly customer service staff are on hand to help you.