Rooftop warning line systems are designed for accessing areas of a flat rooftop that are nearing the roof edge (but not within 2m) to provide a visual warning to workers that are approaching a hazard. The system is freestanding, eliminating the need to pierce the roofing membrane which exposes your rooftop to potential leaks.
When a work area is enclosed by properly installed and maintained warning lines, work inside the area can be done without additional fall protection measures.
Components
Specifications
Features
Regulations
Resources
Components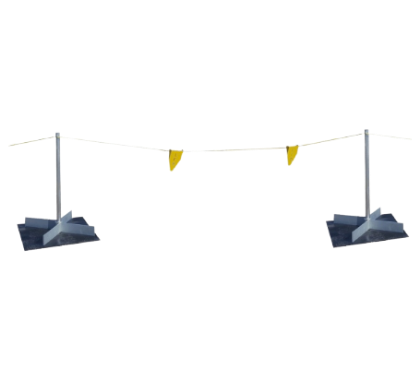 All products are customizable depending on rooftop layout
and applications and include:
Grated slip resistant walkways
Complete installation manual and layout drawings
Counter weighted baseplates
Rubber mats to protect rooftop membrane
Vertical posts
Horizontal rails
Set Screws
Specifications
Features
Regulations
Resources
The Hierarchy of Fall Protection Solutions Learn more about our team and what sets us apart as industry experts in fall protection, ground support and material handling industries.
Check to see what the OSHA regulations for working at heights and fall protection are and which Gargoyle Rooftop Guardrail systems help you comply.
Our team is committed to providing the highest level of customer service. If you didn't find the information you were looking for, please contact us.
We offer a huge selection of products and quick quotes for what you're looking for
Give us a call. Our friendly customer service staff are on hand to help you.