Heavy Duty Core Gripping Roll Handlers
Core gripping roll handlers use a long shaft that inserts into the core of your roll and expands to fit the inside circumference.
Heavy Duty Core Gripping roll handlers are used to lift, move, and reorient rolls that weigh 500 lbs. or more.
These pieces of equipment can be designed to perform a number of functions, with two main categories;
Horizontal
Roll handlers that are designed mainly to move a roll from one point to another without having to change the horizontal orientation of a roll. The shaft fits inside the core of the roll, can move the core up or down, forward or back, side to side.
Lift, turn, and rotate
Roll handlers that are designed to change the orientation of a roll. This can be to turn, rotate, and lift. The shaft fits inside the core of the roll and expands to grip the inside circumference. That way the roll can be turned from a horizontal to vertical orientation, rotated in tight spaces, or between different machinery, among many other practical uses.
Injury incident: Accident Report Detail
At 9:00 a.m. on November 10, 2018, an employee was using a hoist to lift a 12 inch wide roll of paper on a pallet and the hoist shaft came out of the roll. The employee fractured his ankle and leg when the roll tilted off the pallet and struck him. The employee also sustained soft tissue damage to his leg and ankle as well. The employee was hospitalized.
ERH 700 Roll Handler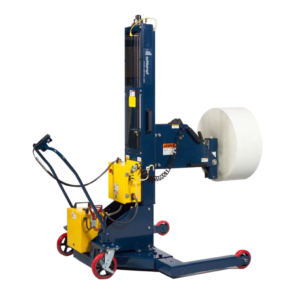 ERH 700 Roll Handler
The ERH-700 portable electric roll handling machine is used to lift and turn rolls by the core for palletizing, transporting and loading rolls. It features up to 700 pounds of lifting capacity and has powered lift and powered turning operations. This roll handling machine's lightweight frame is easy to push & maneuver; in addition, it is rugged and low maintenance, which will help to ensure you get the most out of this roll handling machine.
---
Designed For Lifting, turning, rotating, and moving rolls
---
Movement 24 VDC Operation with Two 110 Ah Batteries
---
Weight Capacity 700 lbs
---
Number of Users 1
---
Controls Push Buttons
---
Gripping Mechanism Core Gripping
---
Optional Accessories Anti-Telescoping Attachment, Expanding Mandrels from 3 to 12″ and Spare Battery Packs
---
Speedy-PT10X Roll Handler
Master-PT10X Roll Handler
Delta-PT20X Roll Handler
FEATURES/Benefits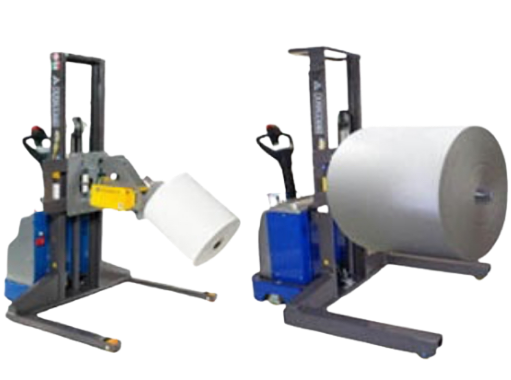 Drastic reduction in heavy/repetitive lifting
Customized for your specific application, designed to work with your product(s)
Reduction in workplace illness/injury claims, resulting in lower insurance costs
Allows for diversity/adaptability on the job, more workers are now able to complete the task without physical limitations being an issue
Our systems pay for themselves via productivity and efficiency increases
Weight and capacity ranges are considered during the design process, our systems can handle multiple weights, textures and products without altering the system
Designed to work in your specific facilities conditions, such as high heat, dust, humidity, moisture etc.
Applications
Regulations
Resources
SUPPLIERS
MATERIAL APPLICATIONS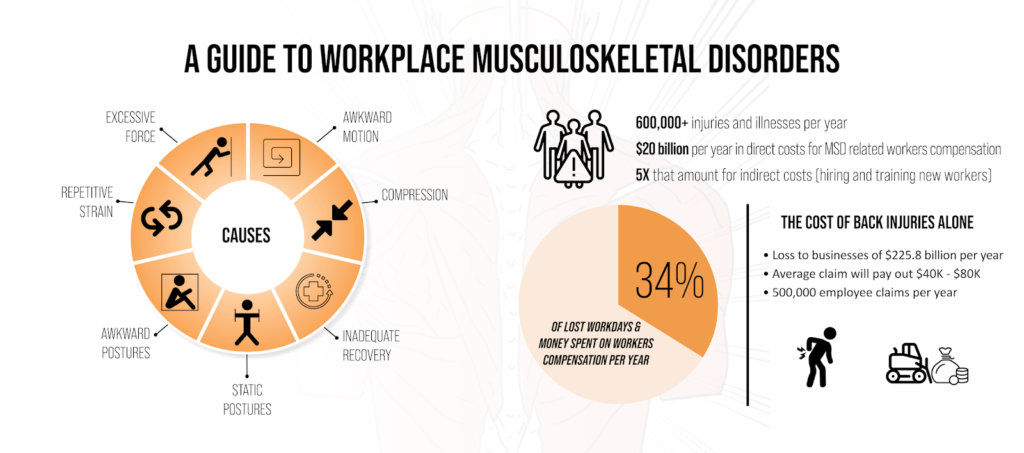 Learn more about our team and what sets us apart as industry experts in fall protection, ground support and material handling industries.
See if we have already solved the
problem you are having by viewing
the latest projects delivered by
Factory Supply. 
Our team is committed to providing the highest level of customer service. If you didn't find the information you were looking for, please contact us.
We offer a huge selection of products and quick quotes for what you're looking for
Give us a call. Our friendly customer service staff are on hand to help you.