Pneumatic Cranes & Manipulators
Movomech includes our line of Rail Systems including electric, pneumatic, and vacuum. Through a series of suspensions and trolleys, we can easily build complete systems, even with extensions and accessories as needed. Our smooth-running trolleys make sure that PHB cranes can be moved rapidly and repeatedly without harming the loads. If roof-mounting is unavailable, the Movomech line can be mounted into the ceiling or floor-mounted steel structures.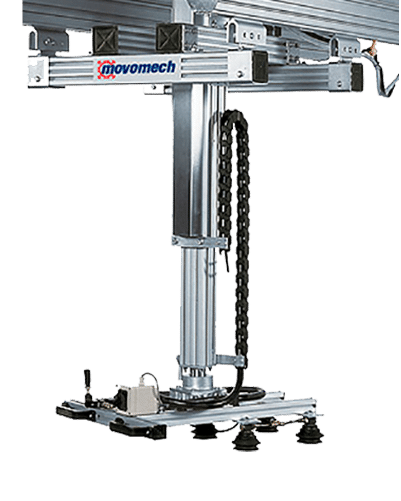 The Pneumatic Mechlift Pro, known as Mechlift P, is constructed using anodized telescoping aluminum profiles, reducing maintenance requirements. This highly adaptable lifter serves a wide range of lifting and handling applications, offering compatibility with standard or customized tooling and accessories, such as rotation units, tooling fixtures, and brake units.
Meet the Mechlight Pro, an air-operated lifter designed for easy handling of fixed loads up to 110 pounds, boasting an impressive working stroke of up to 47 inches. It can be equipped with a balancing function to accommodate a diverse range of loads. This versatile lifter can be effortlessly installed on overhead rail systems, wall mounts, or pillar-mounted cranes.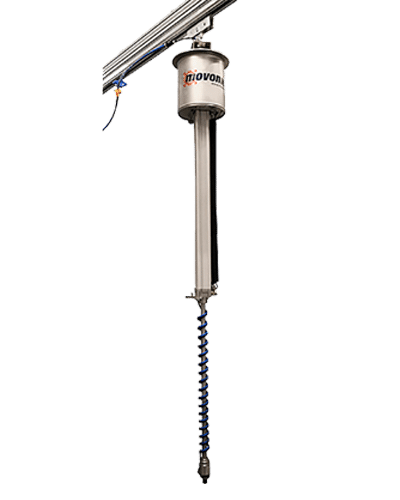 Introducing the Mechline Pro—an effortlessly maneuverable line balancer designed to handle loads of up to 110 pounds with ease. The lifting wire, renowned for its exceptional durability, can withstand up to an impressive 300,000 work cycles. For those engaging in frequent use, averaging around 200 operating cycles per day, this translates to an extended lifespan of 1500 working days—equivalent to over five years of reliable performance!
The Mechspace Pro is a pneumatic momentum-absorbing lifter thoughtfully designed for effortless control, flexibility, and seamless movement across a vast workspace. Its unique momentum-absorbing features make it a valuable asset for tackling intricate material handling tasks and maneuvering unconventional loads.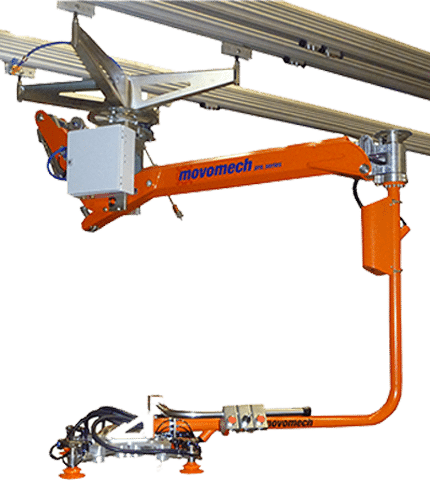 Specifications

Details

Type

Pneumatic Mechlift Pro

Versatility

63 kg, 80 kg, 125 kg

Tooling and Accessories

Standard or Customized (Rotation Units, Tooling Fixtures, Brake Units, etc.)

Counterbalancing

Yes (For Handling Various Loads)

Drive Unit

Electric or Pneumatic (Powerdrive) for Controlled Sideway Motion

Common Applications

- Lifting and Handling Material Rolls or Sheets
- Handling Doors
- Handling Windows
- Lifting Storage Tanks
- Automotive Parts Handling


Features

- Easy Integration
- Many Pneumatic Versions
- Reliable and Easy to Service
- Handling Auto Parts

Specifications

Details

Type

Ergonomically Designed Momentum Absorbing Lifter

Lifting Capacity

165-1,430 pounds

Maximum Stroke

78 inches

Tools and Accessories

Standard or Customized Tools and Accessories (Rotation Units, Tool Fittings, Brake Units, etc.)

Common Applications

- Lifting Rolls
- Handling Doors
- Handling Windows
- Lifting Storage Tanks
- Handling Auto Parts

Specifications

Details

Type

Ergonomic Lightweight Lifter (Pneumatic)

Lifting Capacity

Up to 50 kg

Lifting Stroke

400-1200 mm

Noise Level

< 70 dB (A)

Tare Weight

23 (27) kg (Standard and Automotive Versions)

Lifting Speed

0-40 m/min

Rotation

0-360° (Unlimited)

Air Consumption per Cycle

9.8 ln/mSL (at 5 bar)

Working Pressure

4.5-6 bar

Working Temperature

5-40 °C (Indoor Use)

Applications

- Material Handling in Manufacturing Industry
- Light Vehicle Parts Assembly Work
- Picking from Conveyors and Roller Conveyors

| Specifications | Details |
| --- | --- |
| Type | Pneumatic Moment Absorbing Manipulator |
| Load Capacity | 50-70 kg |
| Maximum Torque | 500 Nm |
| Length of Stroke | 900 mm |
| Noise Level | <70 dB (A) |
| Maximum Tare Weight | 100 kg (Hanging Model) |
| Hoisting Speed | 0-40 m/min |
| Rotation | 0-330° (Upper and Lower) |
| Air Consumption per Stroke | 8 l (With Maximum Load) |
| Working Pressure | 4-7 bar |
| Working Temperature | 5-40 °C |
All of our Material Handling solutions either meet or exceed all applicable regulations which include; OSHA, ANSI and ASME B30.20.
Learn more about our team and what sets us apart as industry experts in fall protection, ground support and material handling industries.
See if we have already solved the
problem you are having by viewing
the latest projects delivered by
Factory Supply. 
Our team is committed to providing the highest level of customer service. If you didn't find the information you were looking for, please contact us.
We offer a huge selection of products and quick quotes for what you're looking for
Give us a call. Our friendly customer service staff are on hand to help you.