The Mechrail is a specialized rail system that encompasses a variety of propulsion options, including manual and motorized units, to accommodate different industrial needs. Designed for versatility, the Mechrail system features a large selection of trolleys, which allows for the seamless creation of custom systems, complete with extensions and a wide range of accessories. The system's high-performance trolleys ensure that even the most sensitive loads can be transported quickly and smoothly, with repeated precision. For facilities lacking roof support, the Mechrail can be integrated into existing ceiling frameworks or paired with custom-designed floor-mounted structures, ensuring adaptability across any working environment.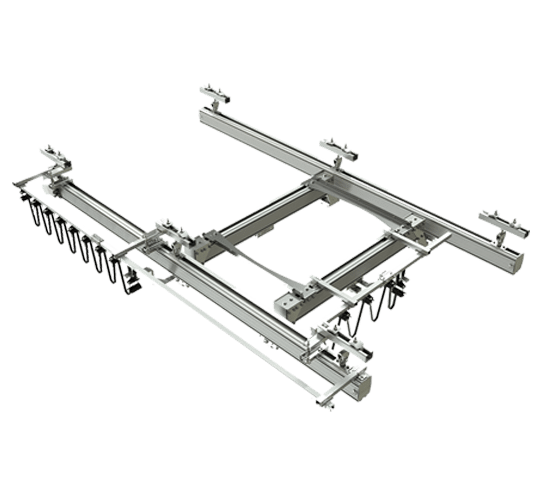 Mechrail is ceiling mounted overhead crane / rail system that is makes lifting smart, versatile and innovative. The Mechrail is composed of light-weight aluminum and is designed to be used indoors. Mechrail is easy to use and install, and features seamless integration into your facilities needs.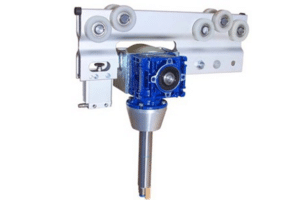 The electric Power Drive is an electric drive unit that integrates in the rail system trolleys of the Mechrail. It features an adjustable driving speed and is controlled by a joystick.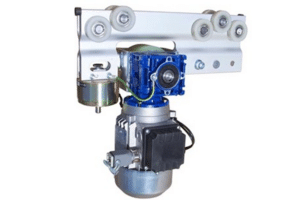 The pneumatic Power Drive is the air-driven version of the electric Power Drive. 
Specifications

Details

Material

Extruded Aluminum Profiles

Design Features

T-Channels, Flanges, and Smooth Sides for Easy Cleaning

Strength

Maximum Strength for Heavy Load Capacity (Up to 1000 kg)

Advantages of Aluminum

- Low Weight for Easy Installation
- Corrosion Resistance
- Anodized for Maintenance-Free Operation and Self-Lubrication

Load Capacity

Up to 1000 kg

Suspension Solutions

Various Suspension Alternatives Depending on Building Construction

Trolley Features

- Three Pairs of Ball-Bearing Wheels
- Run Inside the Profiled Boom

Drive Units

Optional Drive Units Can Be Connected to Trolleys

Expansion Capability

Easy-to-Fit Joint Sets for System Widening or Lengthening

T-Formed Grooves

Enables Attachment of Various Accessories

Applications

- Overhead Cranes and Tracks System Creation
- Integration with Crane Systems like Mechcrane
- Used in Lifters such as Mechstack
- Direct Adaptation for Chain Hoist Mechchain
Specifications

Details

Type

Electric Drive Unit for Mechrail

Control

Stepless Speed Adjustment with Frequency Converter, Controlled by Joystick

Direction

Can be Used in X and Y Directions

Brake System

Additional Control Units for Brake System on the Manoeuvre Handle

Load Capacity

250 / 500 kg

Motor Output

0.18 kW

Voltage Options

- Single: 1x230V, N, PE (±15%) 50/60 Hz
- Single + Slave: 3x230V, N, PE (±15%) 50/60 Hz
- Double: 1x230V, N, PE (±15%) 50/60 Hz
- Double + Slave: 3x230V, N, PE (±15%) 50/60 Hz
- Triple: 3x230V, N, PE (±15%) 50/60 Hz

Fusing

10 AT

Enclosure Class

IP 54

Noise Level

< 70 dB (A)
| Specifications | Details |
| --- | --- |
| Type | Pneumatic Drive Unit for Mechrail |
| Control | Controlled by Lever Valve |
| Load Capacity | 250 / 500 kg |
| Dead Weight | 15 kg |
| Motor Output | 0.16 kW |
| Medium | Compressed Air, Filtered, Unlubricated |
| Working Pressure | 6 bar |
| Noise Level | 77 dB (A) |
All of our Material Handling solutions either meet or exceed all applicable regulations which include; OSHA, ANSI and ASME B30.20.
Learn more about our team and what sets us apart as industry experts in fall protection, ground support and material handling industries.
See if we have already solved the
problem you are having by viewing
the latest projects delivered by
Factory Supply. 
Our team is committed to providing the highest level of customer service. If you didn't find the information you were looking for, please contact us.
We offer a huge selection of products and quick quotes for what you're looking for
Give us a call. Our friendly customer service staff are on hand to help you.