Move heavy loads easily with one of our innovative powered cart movers. These battery powered material handlers are perfect for ensuring worker safety and increasing productivity when pushing or pulling heavy equipment. Reduce your exposure, physically and financially. Our cart movers are specifically designed to prevent injuries by moving large loads that might normally be manually pushed.
Our cart movers are versatile and can be used in many settings such as warehouses, manufacturing facilities, hospitals, aerospace facilities, and vehicle repair. These cart moving devices can move just about anything on wheels or casters weighing up to 20,000 lb.
Injury incident: Accident Report Detail
At approximately 12:01 a.m. on April 6, 2007, Employee #1 was pushing a four wheeled cart that was loaded with two grooved bars and one slitter bar, which he had removed from a slitter machine for a paper film changeover. The cart had swivel casters for wheels and was manufactured for the employer several years earlier by a local metal fabrication shop. The cart had been used in the facility on a daily to weekly basis to carry the bars. The approximate dimensions of the cart were 37-in. by 24-in. by 60-in. The total weight of the bars in the cart was approximately 496 pounds. Employee #1 was in the process of pushing the loaded cart from the slitter to a storage rack, where he was going to unload the bars. During this process, one of the caster wheels struck a crack in the concrete floor surface, causing the cart to tip over. As a result, one or more of the bars struck Employee #1's left foot and crushed all of his toes. Employee #1 was wearing steel toed boots at the time of the accident. EMS was immediately summoned, and he was transferred to the hospital, where he received several surgeries in an attempt to save his toes. The surgeries were unsuccessful and all of the toes had to be amputated.
IP65 CartMover™
Cart Mover SD
Cart Mover XR
IP65 CartMover™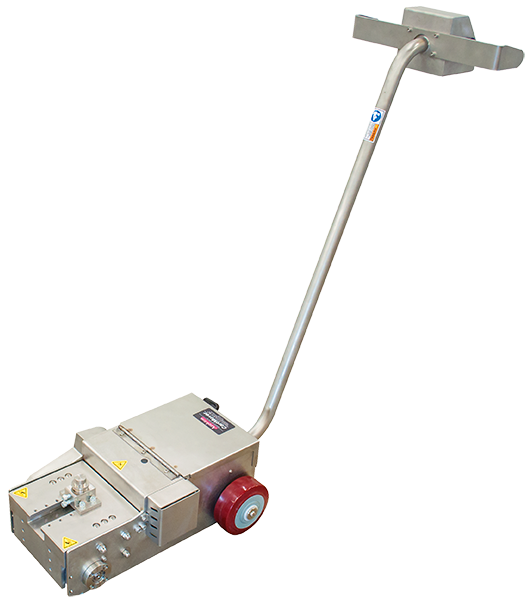 IP65 CartMover™
IP65 CartMover™ is ideal for food or pharmaceutical industries. Designed to last, this cart mover is constructed of stainless steel and is able to be equipped with a wide variety of pre-engineered custom hitches, which can connect securely too many cars, vehicles, bins or other wheeled loads.
---
Functionpushing or pulling heavy equipment
---
Capacity 5 tons (SD and IP65)
---
Material Stainless Steel. Rugged welded frame construction
---
Powered 24v rechargeable NiCAD Battery
---
Push/Pull Speed 209 fpm max (2.4 mph)
---
Contact Ergonomic Expert over 30 models available based on capacity, environment, usage exist.
Cart Mover SD
Cart Mover XR
Features/Benefits
Applications
Regulations
Suppliers
Features/Benefits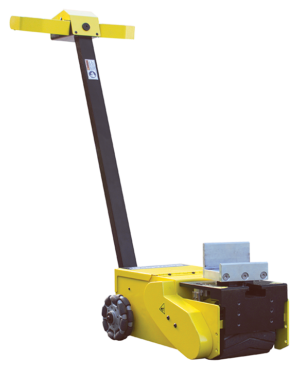 Drastic reduction in heavy/repetitive lifting

Customized for your specific application, designed to work with your product(s)

Reduction in workplace illness/injury claims, resulting in lower insurance costs

Allows for diversity/adaptability on the job, more workers are now able to complete the task without physical limitations being an issue

Our systems pay for themselves via productivity and efficiency increases

Weight and capacity ranges are considered during the design process, our systems can handle multiple weights, textures and products without altering the system

Designed to work in your specific facilities conditions, such as high heat, dust, humidity, moisture etc.
Applications
Regulations
Suppliers
Ergonomic Material Handling
An investment in workplace safety
ON THE LEADING EDGE OF SAFETY
Learn more about our team and what sets us apart as industry experts in fall protection, ground support and material handling industries.
See if we have already solved the
problem you are having by viewing
the latest projects delivered by
Factory Supply. 
Our team is committed to providing the highest level of customer service. If you didn't find the information you were looking for, please contact us.
We offer a huge selection of products and quick quotes for what you're looking for
Give us a call. Our friendly customer service staff are on hand to help you.