Lift-O-Flex 19000 Series Portable Lifter
The 19000 Series Lift-O-Flex portable ergonomic lifter provides your facility with a dynamic load handling option tailored for heavy load capacities, while reducing injuries and creating a more efficient work encironment.  
The 19000 Series features three models, differing in lift capacity. Starting at 350 lbs (159 kg) for the 19000, 500 lbs (227 kg) on the 19500, and 700 lbs (317 kg) for the 19700 model.
 All models provide flexibility and are interchangeable with a numerous amount of attachments and additions. 

The Lift-O-Flex portable lifters reduce work-related injuries and improve the efficiency and environment of workplaces. Featuring rechargeable batteries and low maintenance, the Lift-O-Flex is the perfect material handling solution for your facility.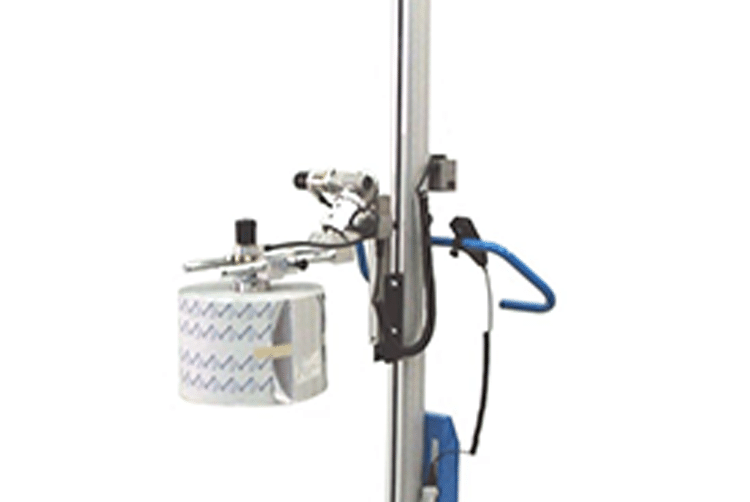 Electric core expander for paper and film rolls.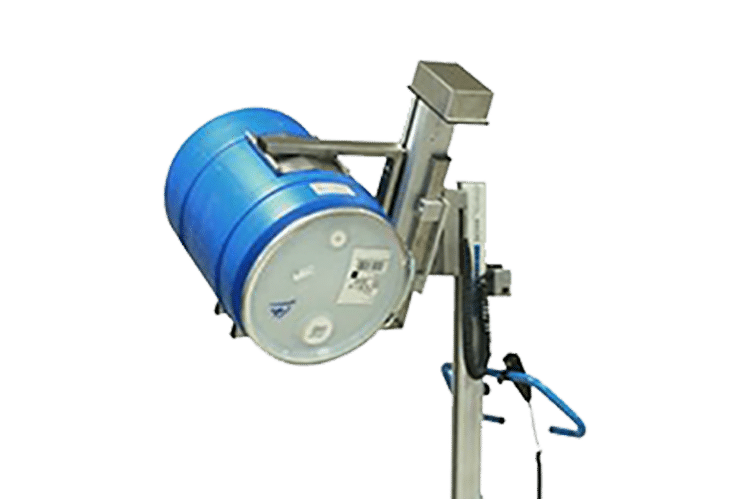 Lifting device to support drum handling and goods requiring rotation.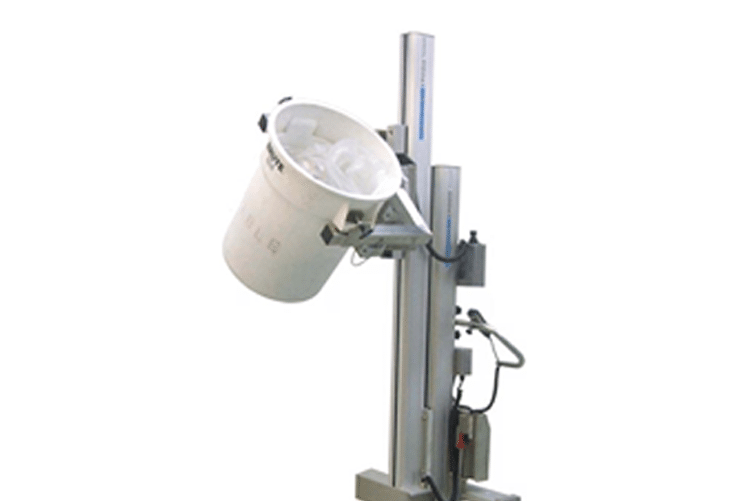 End-effector that can be equipped with different arms to handle various products that need rotating.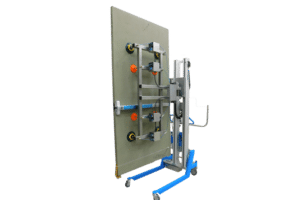 End-effector that features adjustable magnets allowing lifting of up to 200 lbs.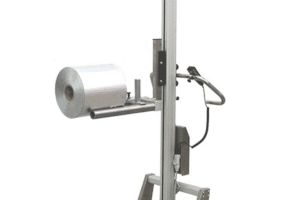 Fixed or adjustable forks for material handling where space is limited.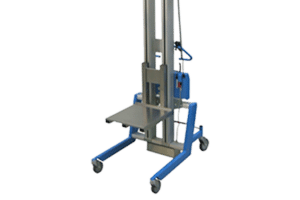 Allow operators to handle totes, boxes, roles and pails. Available in standard and custom sizes.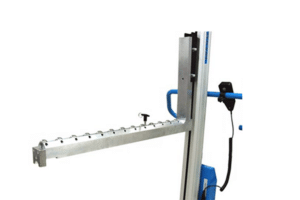 Available in a fixed or wheeled model, used to handle rolls from pick up to drop off.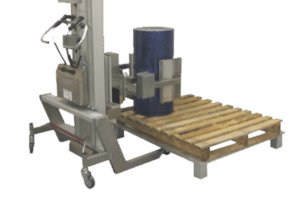 We also offer custom solutions to meet your individual needs. 
Features and Benefits

Lift Capacities

19000 Series: 350 lbs
19500 Series: 500 lbs

Anodized Aluminum Profiles

- Intermediate Sections: Standard and Custom Lengths
- Lift Masts

Steel (Powder Coated Paint-Optional SS)

- Legs: Bolted to Intermediate
- Handlebar: Height Adjustable
- Power Pack Cover

Standard and Custom Leg Configurations and Heights

- Swivel and Fixed Casters

Standard and Custom Length Lift Masts

Foot Operated 3-Position Central Brake System

- Brake, Free Wheeling, and Center Lock (Trailing)

Lift Mast Slip Clutch on Down Movement

- Provides Safe Load Handling

Current Limiting (No Limit Switches)

- Provides Load Limiting and Stops

Totally Enclosed Lift Mast with Ball Screw

- Smooth Up and Down DC Powered Movement

Electronic Power Pack

- Standard or Heavy-Duty Batteries
- Exchangeable Power Packs for Multi-Shift Operation

Detachable Remote Controller

- Operator Control Over Load Handling Functions

Adjustable Handlebar

- Achieves Ergonomic Operation
Floor to top of Mast - Standard Legs

Floor to top of Mast - Low Profile Legs

Total Lift Stroke - Standard Mast

Total Lift Stroke HD Mast

2003mm (78.8")

1951mm (76.8")

1375 (54.1")

1262mm (49.7")

2503mm (98.5")

245mm (96.5")

1875mm (73.8")

1694mm (66.7")

3003mm (118.2")

2951mm (116.1")

2368mm (93.2")

2260mm (89")

SPECIFICATIONS

Minimum Lift Height:
Lift-Speed 19000 Series:
Lift-Speed 19500 Series:
Legs-Standard (Overall Length):
Legs-Low Profile (Overall Length):
Legs-X-Low Profile (Overall Length):
Wheel Material:
Wheel Diameter (Front/Back) Standard:
Wheel Diameter (Front/Back) Low built:
Wheel Diameter (Front/Back) X-Low built:
Width: Outside:
Noise level:
Maximum Load 19000 Series:
Maximum Load 19500 Series:
Lifter Weight w/o End-Effector:
Battery Type:
Voltage:
Battery Capacity:
Recharge Time:
Finish:
~56mm (~2.2")
~100mm/sec (4"/sec)
~50mm/sec (2"/sec)
Std Length 984mm (38.75")-Long 1184mm (46.62")-X-Long 1384mm (54.5")
Std Length 961mm (37.84")-Long 1161mm (45.72")-X-Long 1361mm (53.6")
Std Length 900mm (35.4")-Long 1110mm (39.7")
Polyurethane/Rubber
100mm (3.9")/150mm (5.9")-Front Single Swivel
62mm (2.44")/100mm (3.9")-Front Dual Swivel
76mm (2.9")/150mm (5.9")-Front Fixed Castor
Std-556mm (21.8") Wide 680mm (26.7") X-Wide 858mm (33.4")
>70dB(A)
160Kg (350-lbs)
225Kg (500-lbs)
90Kg (198-lbs)
Lead Gel Cell Battery
24V, 2 Amp
7.2 AHr
6-8 Hours
Powder Coated Paint/Anodized or Stainless Steel/Anodized
All of our Material Handling solutions either meet or exceed all applicable regulations which include; OSHA, ANSI and ASME B30.20.
Learn more about our team and what sets us apart as industry experts in fall protection, ground support and material handling industries.
See if we have already solved the
problem you are having by viewing
the latest projects delivered by
Factory Supply. 
Our team is committed to providing the highest level of customer service. If you didn't find the information you were looking for, please contact us.
We offer a huge selection of products and quick quotes for what you're looking for
Give us a call. Our friendly customer service staff are on hand to help you.