This set of landing gear stands makes it easy to get to the landing gear and wheel wells in a safe and efficient manner.  These units can be customised to fit the landing gear needs of any aircraft. The stand is a height-adjustable maintenance platform for landing gear assemblies and access points to the wheel bay.  Telescoping handrails make manoeuvring the platform a breeze, and it complies with all international norms and laws.
The freestanding modules are designed for regular maintenance and inspection of your aircraft and can also be used as a daily maintenance station. These versatile platforms can be used independently or coupled together to form a complete work platform system. When employed in a variety of applications, these lightweight platforms provide unrivalled stability and endurance. Our professional engineers can design custom models based on your specific requirements. 
Don't see it?
Let's build it.
An innovative and intuitive tool designed to simplify the development of your custom safety solution/access stand.
Specifications
Features
Compatible Aircraft
Specifications
DF071592-04 LANDING GEAR Access STAND
Model #: DF071592-04
Designed for: A300, A310, A318, A319, A320, A330, A340, A350, A380, B717, B727, B737, B747, B757, B767, B777, B787, Bombardier CRJ, Embraer 175 & 190, Lockheed L-1011, Douglas DC-8+, DC-10/MD-10/MD-11, DC-9 Super 80/MD-80, E-170, E-190
Footprint: 87″ x 96″ / 220.9cm x 243.8cm
Shipping: 87″ x 96″ x 96″ x 1,100 lbs / 220.9cm x 243.8cm x 243.8cm x 498.9kg
Height: Low: 85 3/4″ / 217.8cm


High: 139 1/8″ / 353.3cm

Weight Capacity: 330 lbs / 150 kg
Certifications: ANSI-ASC A14.7, BS EN 131.7, CE, DIN EN 12312-8 & EN 1915-1
Lateral Adjustability: 56 ½″ / 143.5cm On Centre
Material: Ladder: Steel / Frame: Steel
Finish: Powder Coated Finish
Number of users: 1 User
Castor Details: Back: 8″ / 20.3cm Split Castor with Brake and Swivel Lock Front: 6″ / 15.2cm with Swive
Controls: Hydraulic Foot Pump
Fully Extended: Ladder: 57 Strokes
Fall Restraint Anchor Points: Equipped
Padding Material: Equipped
DF071559-01 LANDING GEAR CHANGE STAND
Model #: DF071559-01
Designed for: B737 
Movement: 1 Person
Towing Speed: 6 MPH / 10 KPH
Footprint Assembled: 73 5/16″ x 196 1/4″ / 186.2cm x 498.4cm
Shipping (DIMS): 73 5/16″ x 36 1/16″ x 96″ x 430 lbs x 2 Stands / 186.2cm x 91.5cm x 243.8cm x 195kg x 2 Stands
Height: 36 1/10″ / 91.6cm to 50 1/2″ / 128.2cm
Weight Capacity: 660 lbs / 300 kg each
Certifications: ANSI-ASC A14.7, BS EN 131.7, CE, DIN EN 12312-8 & EN 1915-1
Material: Stairs: Aluminum / Frame: Aluminum
Finish: Polished Aluminum
Number of users: 2 Users
Castor Details: 8″ / 20.3cm Split Castor with Brake and Swivel Lock
Fall Restraint Anchor Points: Equipped
Features
Compatible Aircraft
Resource Center
Find other Aviation related
materials here
FIXED WING PROJECTS
View our latest Fixed Wing
Projects here
CASE STUDIES
Read our latest Fixed Wing
Case Studies here
"*" indicates required fields
Safety in the air starts on the ground   
From inception, through to design, fabrication, and installation; Factory Supply specializes in standard and custom fixed-wing Crew Access Stands. Working alongside our valued clients in the Commercial, Military, and Private Aircraft sectors, we have been recognized as a leader in quality, innovation, dependability and customer service. Our products are designed to safely access maintenance inspection points, perform painting, assembly, overhaul and repairs.
Our specialized solutions allow maintenance personnel to work both safely and efficiently while protecting the aircraft. Our aircraft maintenance equipment is constructed with premium American materials and products, while exceeding all regulatory requirements including OSHA and ANSI.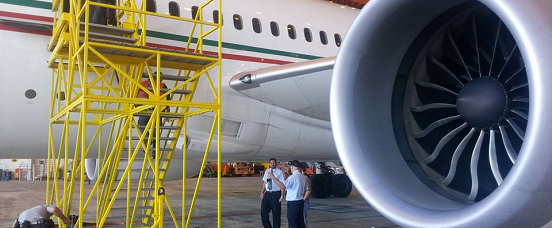 Regulatory and Compliance
Our defining philosophy; "safety in the air, starts on the ground", highlights our core focus of keeping our clients and their teams safe. 
All Factory Supply products are engineered, designed, built and tested in accordance with OSHA and ANSI regulations.
Many of our products have also been tested, and meet or exceed BS EN 131.7, DIN EN 12312-8, EN 1915-1, and include CE certifications. 
Built for safety and ease of use
Many of our crew access platforms are adjustable to allow users to safely access distinct access points of the aircraft using hydraulically actuated and vertically adjustable platforms.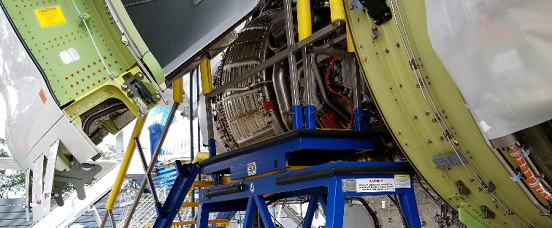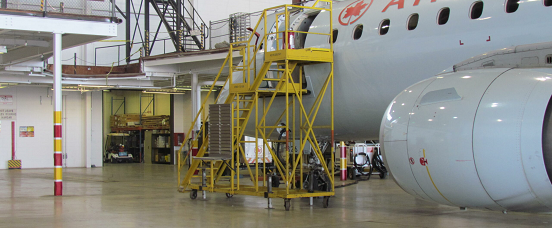 A focus on the finer details
Our crew access stands include specialized features such as anti-fatigue and anti-slip steps, fail-safe hydraulic cylinder locks and castor wheels with brake and swivel locks.
Learn more about our team and what sets us apart as industry experts in fall protection, ground support and material handling industries.
See if we have already solved the
problem you are having by viewing
the latest projects delivered by
Factory Supply. 
Our team is committed to providing the highest level of customer service. If you didn't find the information you were looking for, please contact us.
We offer a huge selection of products and quick quotes for what you're looking for
Give us a call. Our friendly customer service staff are on hand to help you.